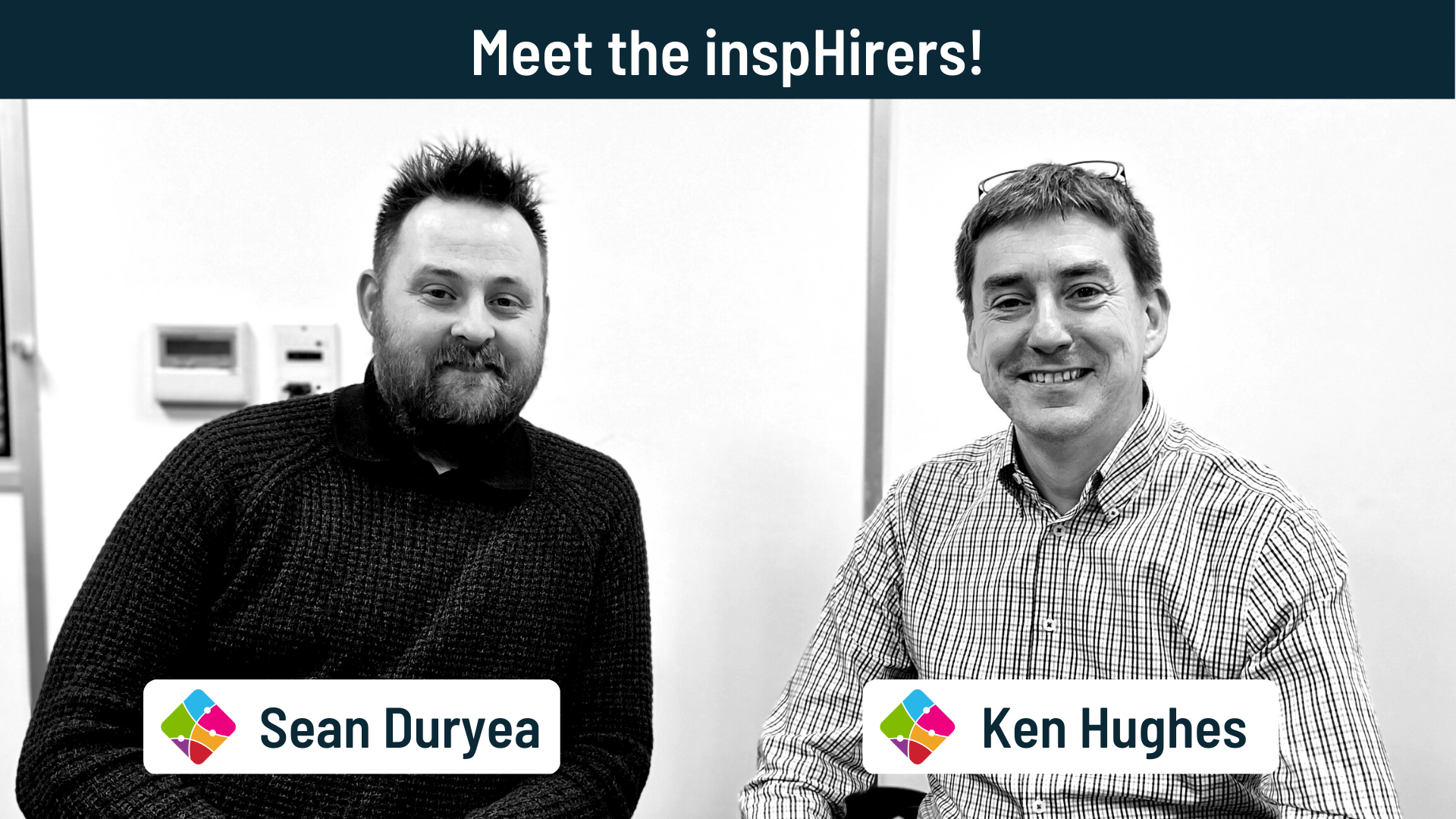 The KCS Rental Division is made up of many different departments and key teams who drive the customer experience for inspHire users. One integral part of this service is our Helpdesk team, and two people who keep the cogs turning from a service delivery perspective is Ken Hughes, Service Delivery Director, and Sean Duryea, Helpdesk Manager.
Over the past year, inspHire began implementing a global programme to improve our customer service and support. How and why? We have invested in new dedicated resources and technologies into this department, as well as new collateral and simplified processes to accommodate our customers. Simply put, the end-goal is to provide full transparency to our customers, while delivering the best possible service. With a combination of 20+ years in IT service delivery and 10+ years at the forefront of inspHire's support team, both Ken and Sean have been working hard on the rollout of the inspHire Continual Improvement Programme. Read the full interview to learn about the latest developments, as well as get to know our team members!
What has been your KCS journey?
"This year is a milestone for my KCS journey as I'll be celebrating 10-years this August. I joined the inspHire team fresh out of university back in 2013. Over the years, there have been many opportunities for me to progress having originally starting out as Helpdesk Analyst, and then gradually working my way up to Supervisor, Team Lead, Deputy and now Helpdesk Manager. A big part of my journey has also being able to witness the growth of the business, not just from an inspHire solution offering perspective, but also the team itself. Originally, I started out in a team of approximately 10-15 individuals, and today I manage a global team of 45." - Sean
With offices situated in the UK, Netherlands, Australia and South Africa, part of the service improvement programme was to restructure the department. Over the last few months, inspHire have successfully expanded the team across the globe, and have since welcomed numerous Helpdesk team members based in our South African offices. In addition to this, we are happy to report significant growth in our Australian Helpdesk department, as well as new appointments to our UK team too!
"I was recruited by KCS back in 2021 to become the first Service Delivery Director for the Rental Division. The purpose of my role was to integrate inspHire's support into the KCS wider-group, and ultimately making our customer service global, scalable and allow the support function to grow at a pace our customers required. My background includes 20+ years in IT service; building and running service operations around the world for brands, such as Rolls Royce, Experian and NHS." - Ken
What does your current role entail?
"Service Delivery Director is a dual-role, the first part is the integration of rental support within the wider KCS group, ensuring the systems and technologies are aligned with our parent company. The other half is being the lead for service delivery for the global Rental Division, this includes working with the board and directors to deliver the service goals, implement new initiatives and aligning with the company-wide targets." - Ken
Off the back of Ken's appointment in 2021, this was the step first of the customer support revamp. Since then, inspHire have been able to take its service delivery to the next level based on this new expertise and experience, implementing new technologies and processes. One project included the rollout of the new customer portal. This new platform enables our team to deliver additional capability for our customer service and support teams. The intention of this is to simplify how customers can engage with our Helpdesk teams, whilst also improving the overall quality and speed of response. Another development has been the rollout of the new customer handbook. The handbook is a step-by-step guide for our customers to explain the support they receive as part of their contract with inspHire.
"The role of Helpdesk Manager includes daily and global operations, essentially overseeing and ensuring we deliver the best possible customer service from a global standpoint. Other core focusses include improving our onboarding and training packages for new appointments across the globe, as well as knowledge-base projects for our team and customers. I currently manage four direct team-leads and consultants, and beneath those are approximately 40 people, so day-to-day and strategically I need to ensure we are driving customer sentiment initiatives and achieving our customer satisfaction goals." - Sean
Another development in the works is the rollout of a new telephony integration. Many benefits have been discovered through this type of integration, specifically increased accessibility, scalability and flexibility for a global team. This will enable inspHire to take our service delivery to the next level, allow us to adapt to the growth of inspHire's customer base. The end goal is to deliver quicker response time at the highest quality, which will be supported by new technologies and continuous training of the team assisting our customers.
Finally, if you were a rental asset, what would you be and why?
"A forklift because it's my job to take things to a higher level." - Ken

"I would be a three-way traffic management system because I manage things coming from all directions and route them to a successful conclusion." - Sean