Held annually at Newbury Showground, The Showman's Show is firmly established as the UK's original and most comprehensive exhibition of products and services for the outdoor, festival and special event world. With hundreds of manufacturers, suppliers, production and event management companies exhibiting, it's certainly the show to keep in your calendar if you want to check out what's new in the exciting world of party and events.
From camels to clowns walking around on stilts, it really is a unique show! With an average of 350 suppliers and manufacturers exhibiting the best products and services available in the event industry, it was an excellent opportunity to meet new suppliers, network with colleagues and discover the latest innovations.
Aside from the bubble machines and dinosaurs, the emphasis on innovative and sustainable solutions was very impressive to see. The Showman's Show hosted a Sustainable Events Summit and Green Supplier Award. Reports reveal that 81% of people prefer to buy from sustainable sellers. And one company who is certainly proving that statistic is none other than Current RMS customer, Event Cup Solutions Ltd.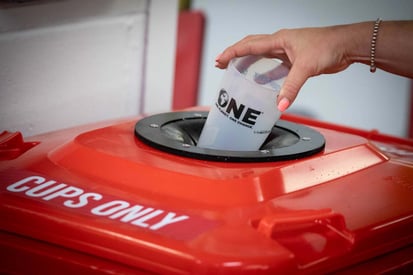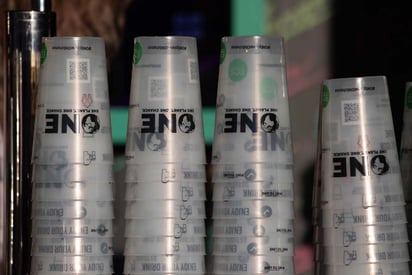 The UK's only carbon neutral reusable cup system 🥤
Event organisers and venues have always had two options available to when it comes to cups. Disposable, single-use plastics which historically are cheap and easy to dispose of, or reusables which were perceived as expensive and difficult to manage. As legislation changes and taxation designed to reduce our consumption of single-use kicks in, the need for a fully managed, sustainable reusable solution has suddenly become greater than ever.
The ONE Planet ONE Chance Reusable Cup System is the solution to this problem – Designed to give event organisers, brands, stadia and venues with peace of mind and comfort that a world-class solution is now available.
The ONE Planet ONE Chance Reusable Cup System is a fully managed service, including the supply and delivery of the cups. On site, they supply and manage cup return points and provide 'binfrastructure', so your customer knows where to put their used cups. They also provide POS material giving the customer direction, as well as providing dedicated cup crews on site to let you get on with doing what you do best.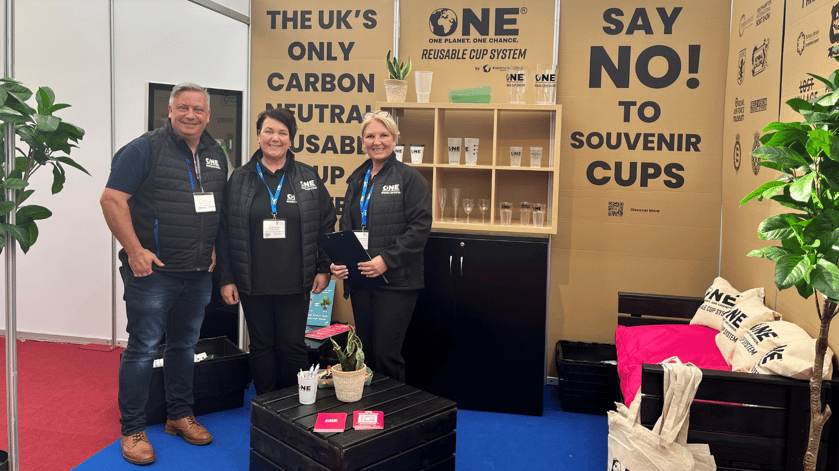 David, Melissa and Helga exhibiting at The Showman's Show 2022.
It was fantastic to see a big interest in such an innovative product, and after the never-ending visitors at their stand, we were finally able to catch-up with the team to see how they've been getting on with their Current RMS system:
"We were aware of inspHire's suite of products as Event Cup Solutions Ltd are a part of the Event Hire group, and they are a customer of the inspHire Office Edition. But when it came to getting started with Current RMS, we actually first saw the product at The Showman's Show last year, funnily enough! So, we've officially been using Current RMS for a year."

"What we like most about Current RMS is the ease of use and overall simplicity - that has been the biggest advantage as this was what our business needed beforehand. The ability to self-serve with the suite of help-guides is also massively handy, as well as the online support, which is a bonus too. We would definitely recommend Current RMS to other businesses!"
Find out more about Event Cup Solutions Ltd and the ONE Plant ONE Chance Reusable Cup System.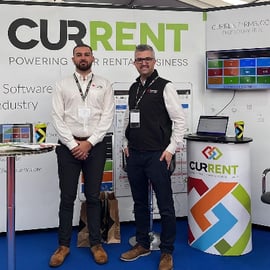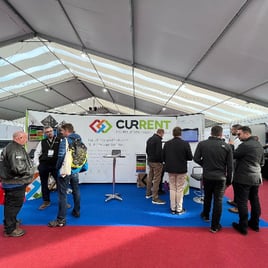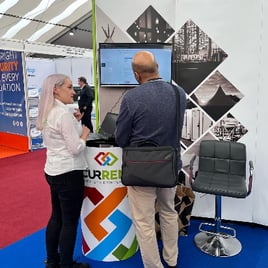 All hands-on-deck for Current RMS!
As for how Current RMS got on at The Showman's Show 2022, the team were busy chatting away, demoing the system and assisting with any queries. It was great to catch-up with our customers and say hello to some new faces who were looking to manage their rental business in the cloud – it's most definitely the best part of the show. The team were able to demonstrate some of our brand-new features from the past year, including the mobile companion app, transfer of assets, and bulk store transfers.
The Showman's Show 2022, it has been a pleasure 🎉
A huge thank you to everyone that stopped by during the show, it was brilliant to catch up! If you couldn't make The Showman's Show this year, you can always book a demo online. We'll be happy to show you around the system with an online screen share at a time that's convenient for you! Or, just sign up for a free trial today of our software, and explore your very own system at your own pace.