Since late-February 2022, news reports of the Russia-Ukraine war have been characterised by images of destroyed landscapes and citizens who have been displaced, injured or worse. While many sympathised, Jeremy Fish, CEO of Ardent Hire, decided with his team to take on ambitious appeal efforts and form the Plant and Hire Aid Alliance.
The Plant and Hire Aid Alliance consists of like-minded companies in the plant and plant hire industry who are acting together to support the humanitarian effort in Ukraine. Even though many of us have already acted, either as individuals or as companies, the alliance have joined-up in efforts to provide aid as a group and raise public awareness about the hardships that have been inflicted on millions of Ukrainian families.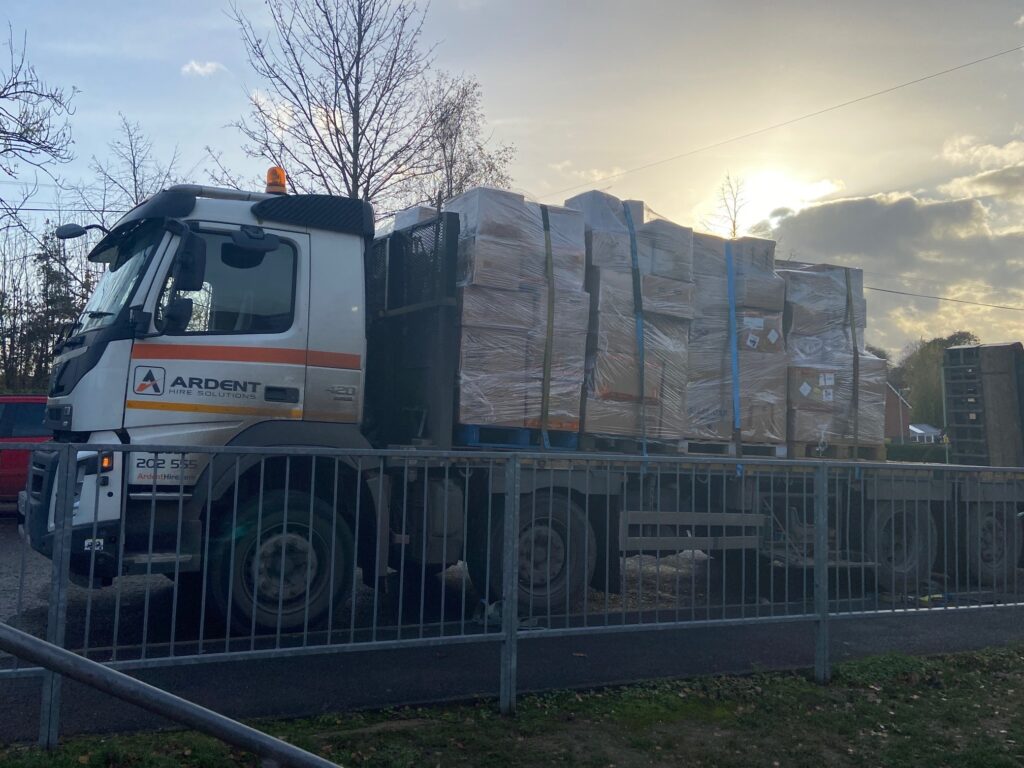 The Plant and Hire Aid Alliance is not a political or lobbying group. Instead, it's serving to make a statement on behalf of the hire industry that we care and are taking action to help those that are in need during a difficult time.
The alliance was launched in March 2022 and the fundraising efforts followed shortly. From television appearances with the likes of BBC, to press coverage through the ARA, HAE and IRN, the word soon started to spread amongst the global hire industry and market-leaders were joining together.
After multiple fundraisers throughout this year, the alliance has managed to donate the following to the Ukraine appeal:
1,500 mattresses delivered

48 tonnes of food delivered

280 suitcases delivered

50 tonnes of medical suppliers delivered

97 generators donated

2,700 blankets delivered

£80,000 (GBP) funds raisers

1,750 boxes of aid delivered



"We formed the Aid Alliance to broaden the involvement of companies in the plant and plant hire industry. We're a great industry to work for and together we can be a force of good in a world that is facing increased uncertainty and turbulence. The war in Ukraine has displaced over 10 million people and changed the lives of many people forever. This is our opportunity to step up and show the world what we can do."

"Ardent's team initially visited the Ukrainian border back in March with 3 vehicles and 250 boxes of aid. Since then, the team delivered 1,500 mattress, 48 tonnes of food, 50 tonnes of medical supplies and 280 travel suitcases. With the formation of the Alliance a convoy in October delivered over 1,500 boxes of aid and a makeshift ambulance. And this Christmas we'll be delivering 25,000 presents to Ukrainian children, 100 generators to Ukrainian families and over 100 pallets of donations. Anyone that wants to help out is welcome. Please get in touch initially with the Alliance at https://aid-alliance.com/." - Jeremy Fish, CEO @ Ardent Hire Solutions
But it doesn't stop there! The latest campaign has been focussing on giving Ukrainian children a Christmas. Despite all of the events that have taken place, with homes and livelihoods destroyed, every child deserves Christmas joy. With an initial target of collecting 7,000 gifts, the alliance has already exceeded that figure massively with over 25,000+ donations!
A fully loaded artic loader will depart from Ardent Hire's Ipswich depot on 12th December to Kosice, Eastern Slovakia. From here, the presents will be distributed across Ukraine with the support of Rotary International and local volunteers.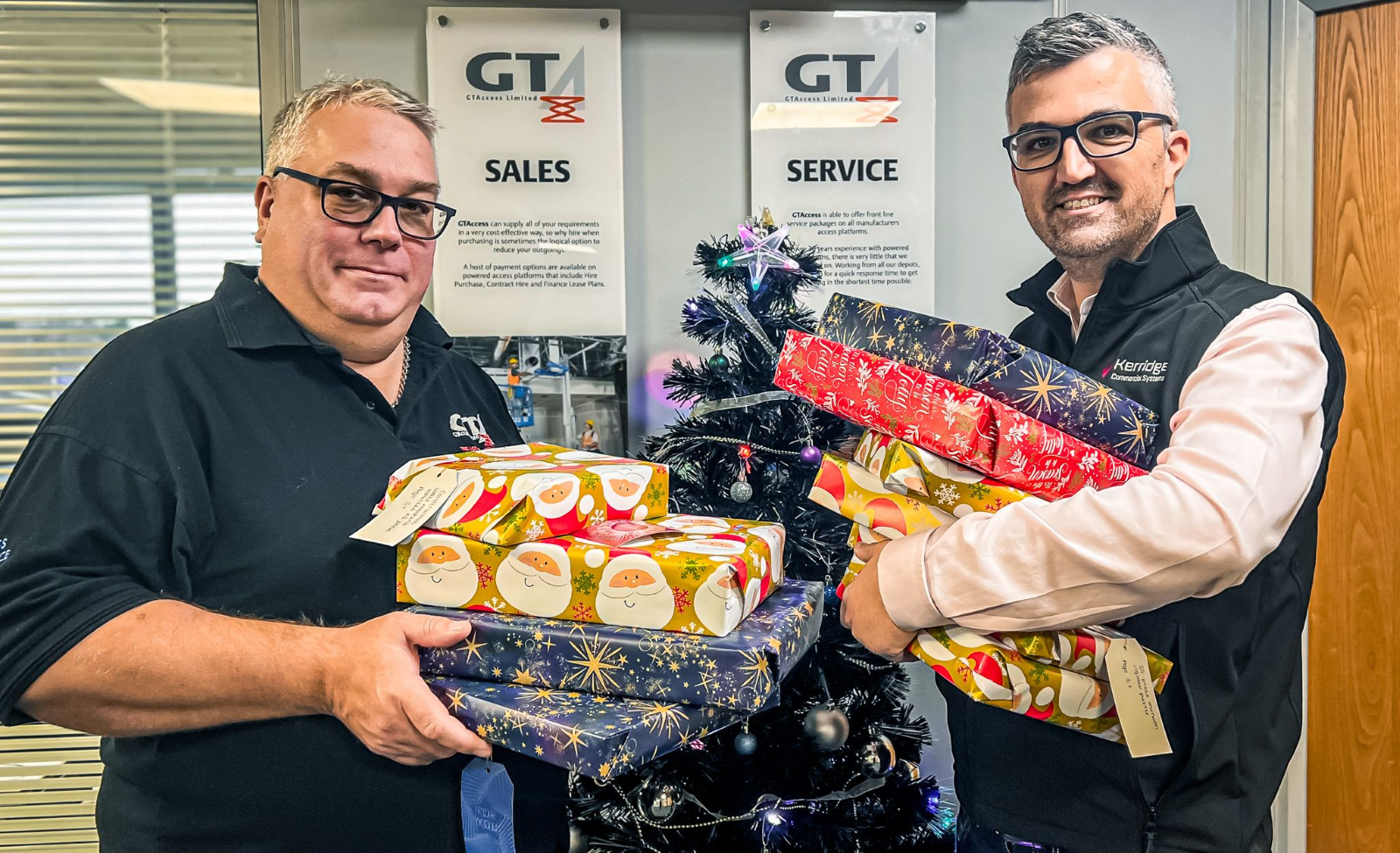 inspHire Senior Account Manager, Paul Buckley, with customer Jonathan Till, Owner of GTAccess Ltd - https://www.gtaccess.co.uk.
Being a part of the Alliance, inspHire jumped at the chance to get involved! A massive thank you to our employees and customers who took the time to support the cause and contributed to inspHire's substantial deposit of gifts. In addition, we'd like to thank our customer, GTAccess Ltd, who are also a part of the Alliance, who delivered our gifts alongside theirs at the drop-off location. It's great to collaborate with our customers and the global hire industry, and most importantly help those who are in need during a difficult time.
"Jeremy approached GTAccess Ltd earlier in the year and we jumped at the chance to be involved. Our staff and customers were only too happy to contribute and help make Christmas special for the Ukrainian families who have lost so much. We have been in awe of everyone's generosity and willingness to help, just being a small part of the massive project has been a privilege." - Jonathan Till, Owner @ GTAccess Ltd
If you would like to get involved, please visit the Plant and Hire Aid Alliance's website to get in touch: https://aid-alliance.com/.